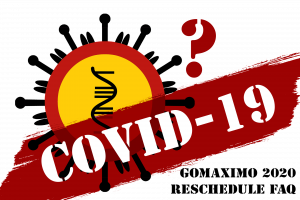 GOMaximo 2020 FAQ
UPDATE:
GOMaximo 2020 will now be a free virtual event October 6-8, 2020. 10 AM (CDT) – 3 PM (CDT) UTC Offset: UTC -5.

Why has the board of directors decided to hold a virtual conference?
Instead of cancelling our meeting (Due to COVID-19), The Board of Directors has developed an online conference to keep our group's momentum moving. Oil, Gas, and Energy organizations still need education and networking. GOMaximo is following its mandate to provide this content to the Maximo Community in the most responsible manner possible.
What are the new dates for GOMAXIMO2021?
GOMAXIMO2021 will take place October 19-21, 2021 at the Embassy Suites Energy Corridor location in Houston.

How do I register for the Virtual GOMaximo 2020 Conference?
We will publish a registration link closer to the event.
What will happen to presentations that have already been scheduled for GOMAXIMO 2020?
We are reaching out to our speakers and will release a revised agenda as we get closer to the event.
Is my paid GOMAXIMO2020 registration valid in 2021? Can I get a refund?
Attendees that have already purchased their tickets may hold on to their registration to use in 2021, or request a refund.
I already made travel arrangements for 2020; will I get a refund?
Please check the terms of your booking directly with your provider/agent. We recommend contacting your provider to arrange any financial compensation. GOMaximo is not responsible for any travel costs incurred by vendors, speakers or attendees.
When will GOMAXIMO 2021 take place?
GOMAXIMO 2021 will be taking place October 19-21, 2021 in Houston, Texas